Spring AY2023 Live Workshops
---
Are you looking to polish your paraphrasing, augment your arguments, and strengthen your structure? Take a workshop!​​​​​​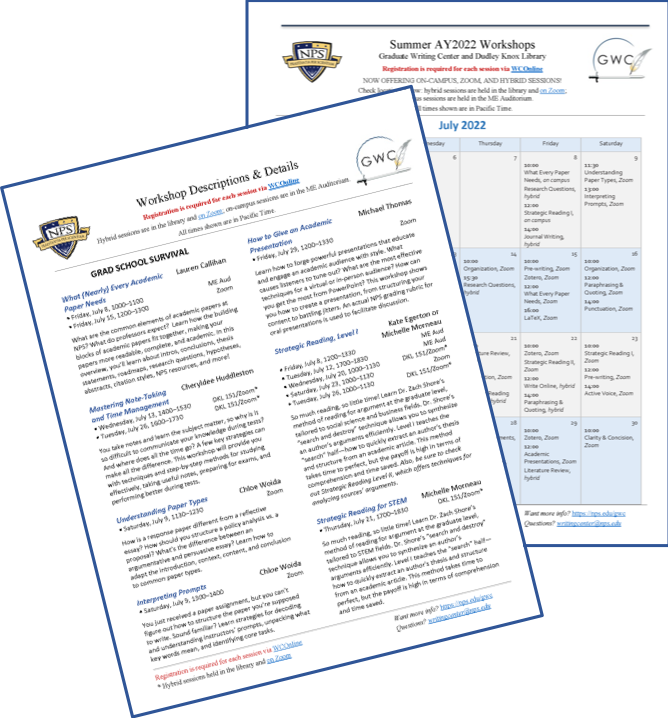 Click here to view workshop descriptions, instructors, times, and locations. Choose from sessions offered throughout the first month of the quarter.
---
2. Register for your workshops
Simply click the purple pencil on the left, then use WCOnline's "Schedules" drop-down menu (in the menu bar at the top of the page) and select Workshops Sign-Up. Use the "next week" and "previous week" links (below the schedule name and date range) to move between weeks.
---
​​3. Locate your workshop
Workshops include on-campus, Zoom, and hybrid sessions. Check the schedule for your location:
Attend on-campus sessions in beautiful ME Auditorium or Dudley Knox Library (room number noted in the schedule) for a fully in-person experience.
Attend hybrid sessions in the library or via Zoom.
Find login info for hybrid and all-Zoom workshops on the Workshops Login page or in WCOnline.
Each workshop can accommodate approximately 12 to 25 participants. Students, faculty, and staff are welcome!
---