Foundations of Academic Writin
g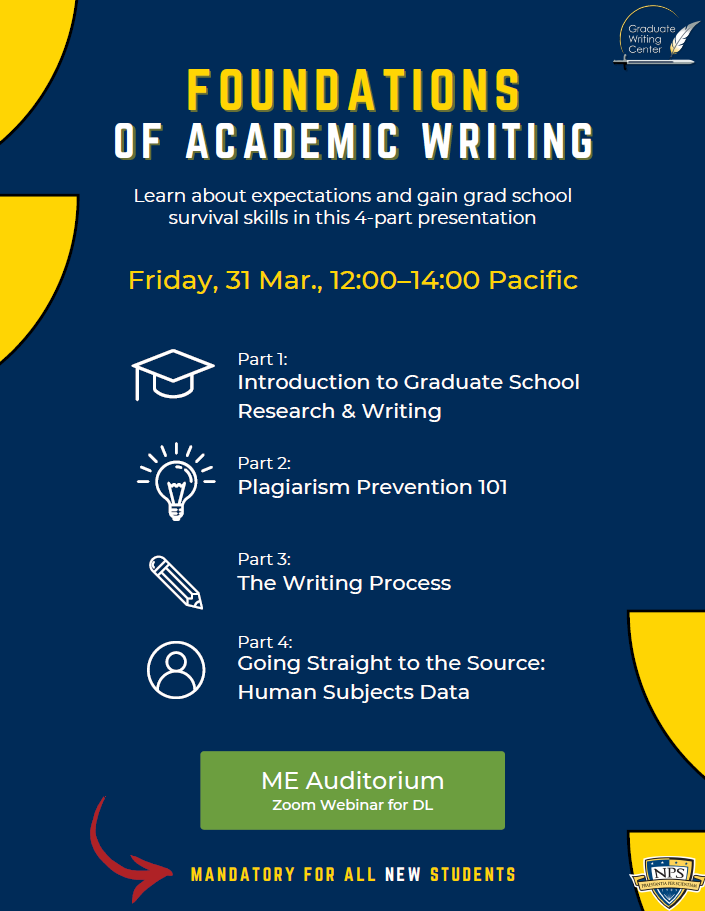 Attention new students! Attendance is required:
March 31, 2023
12:00–14:00 Pacific
ME Auditorium (Webinar for DL)
---
What Is Foundations?
In this series of presentations—mandatory for all new resident and DL students—you will learn the basics of what is expected of your written work, gain survival skills, and receive an overview of the writing process, whether your task is a two-page executive summary or a multi-chapter thesis.
The presentations consist of the topics below and are delivered by seasoned scholars and writers. Slides and videos from the present and/or past quarters are available under each presentation description.
Foundations covers the philosophies, standards, and techniques of academic writing. If you're looking for an introduction to the GWC and its services, see our New Student Orientation video or our GWC services packet.
---
Can't Attend Live?
Students who cannot attend the live event due to their schedule may watch the video presentation below and report completion by filling out this form no later than April 2.
Handouts and slides:
Workshops Quarterly Presentations - spring 2014