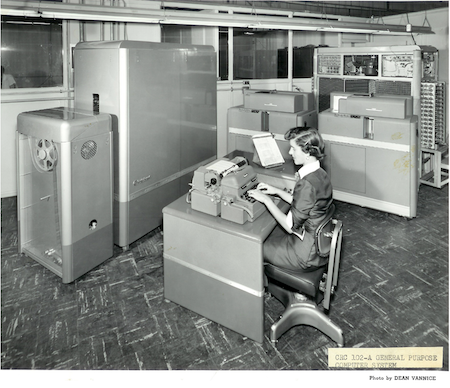 It was in Summer 1953 that the NPS Mathematics department took delivery for the new CRC-102A computer, one of the world's first educational computers. Its components included 195 vacuum tubes, 2500 diodes, 40 amps and 110 v. It ran a single-reel tape at a speed of 100 opc/sec and cost $58,000.
The CRC-102A was intended to be used in nearly all phases of the physical sciences, including for weather simulation and simulation of electronics systems, business, industrial, and military games. It was later known as the NCR 102A when its manufacturer, Computer Research Corporation was taken over by the National Cash Register Company.
Read a presentation on the history of Computing at NPS in NPS Archive: Calhoun at https://calhoun.nps.edu/handle/10945/48960.
NPS Historical Highlights are brought to you by the Dudley Knox Library.
"Excellence through Knowledge"
Mission: Empowering cross-organizational teams as a community of practice to enhance the quality of NPS education through collaborations that create and support innovative and distinctive learning experiences.
email: TLC@nps.edu
Thesis Processing reviews and collects all NPS theses, dissertations, capstone reports, MBA reports, and joint applied projects. We help our students meet the NPS format and citation requirements and ensure the paper is of graduate-level quality.
Mission: To develop the writing and critical thinking skills of NPS students for success in graduate school and as military and civilian leaders.
email: writingcenter@nps.edu