Historic Hotel Del Monte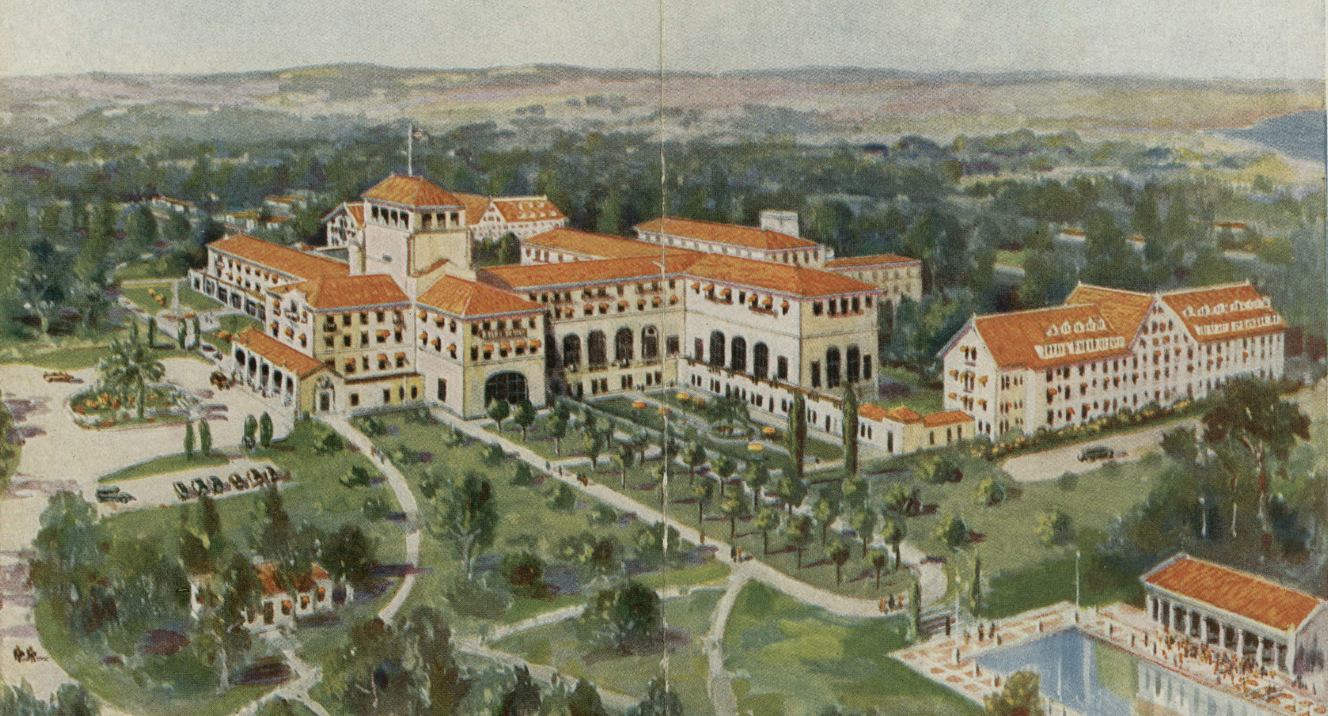 Hotel Del Monte was the catalyst for Monterey's modern-day tourism industry and a trendsetter in the development of sports and recreation. At its zenith, Hotel Del Monte encompassed 20,000-acres spread across the Monterey Peninsula. Guests included American presidents; world leaders; industrialists and business executives; famous artists, poets, musicians, dancers, comedians, film stars and other notables.
The visionaries who established and shaped the resort, Charles Crocker and Sam Morse, created an enduring legacy. We offer a glimpse at the remarkable history of "The World's Most Elegant Seaside Resort" and its transformation into the Naval Postgraduate School and Pebble Beach Company.
History
The Hotel Del Monte, now home to the Naval Postgraduate School, was one of the world's leading resorts in the late 19th and early 20th centuries. It was also the starting and finishing point for the original 17-Mile Drive.

Hotel Del Monte, created by railroad pioneer Charles Crocker, opened in June 1880. Skeptics called the project "Crocker's Folly" and predicted that the resort would quickly fail. The time was right for the notion of "leisure", however, and Crocker's idea to create a luxury destination reachable by train mean that in its first month of operation, Hotel Del Monte would show a net profit of $11,300. With a capacity of just over 100 suites and guest rooms, Del Monte's manager had to turn down more than 3,000 reservation requests in the hote's first six weeks.

Del Monte soon became a favorite for America's "leisure class".
Frequent visits by a succession of Presidents, by leaders of industry, royalty, heads of states, and the upper class of the world set the tone for Del Monte. It soon gained international prominence and a reputation as the "Queen of American Watering Places," "The Most Elegant Seaside Resort in the World" and "California's Best Loved Resort."
Hotel Del Monte was the crown jewel in Crocker's 7,000-acre resort, with a 125-acre botanical garden surrounding the hotel. Guests enjoyed leisurely strolls through the landscaped grounds and carriage excursions into the Hotel Del Monte Park Reservation, better known today as Pebble Beach.
The carriage excursions were part of a cultural and scenic tour that lasted for several hours. Initially 18 miles long, the tour route was shortened and called the 17-Mile Drive. Contemporary roads take today's visitors along a portion of this original route in Pebble Beach.
Rutherford B. Hayes became America's first sitting president to visit California when his express train arrived at Hotel Del Monte in September 1880. He later wrote: "We shall always remember our visit to Monterey as one of the most agreeable episodes of our lives. We shall never forget that lovely hotel among the trees and flowers."
| | |
| --- | --- |
| Map of Hotel Del Monte Park Reservation, 1889 | Camp Crocker, 1880 |
| Map published in a 1889 Hotel Del Monte Souvenir Book (Courtesy of the Charette Collection). | Charles Crocker built the original Hotel Del Monte and sponsored the first military encampment there in 1880. This detail of Joseph Strong's painting, Camp Crocker - G Company, is courtesy of the Monterey Museum of Art and David and Jeanne Carlson. The painting depicts Crocker and family with the Second Artillery and Eighth Infantry Band. |
In 1919, Samuel F.B. Morse, then 34 years old, obtained financial backing from San Francisco capitalist Herbert Fleischhacker and a few friends and purchased the Hotel Del Monte and about 18,000 acres of land spread throughout the Monterey Peninsula, Pebble Beach and Carmel Valley to establish Del Monte Properties Company, forerunner of today's Pebble Beach Company. Morse then set about to transform and rejuvenate the Hotel Del Monte, making it a sports empire based on golf and other outdoor athletics. His success brought him widespread recognition as one of America's leading executives.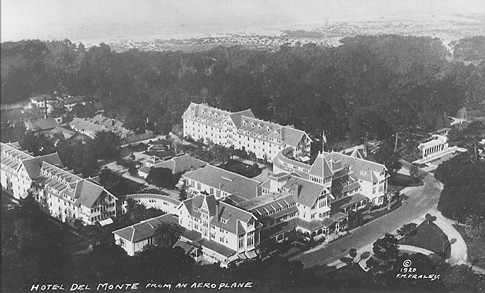 Hotel Del Monte in 1920, shortly after the establishment of Del Monte Properties Company.
Rise of the Spanish Revival Hotel Del Monte
A devastating fire in 1924 destroyed the main building of the Victorian era Hotel Del Monte. Morse and Carl Stanley worked with architects Lewis Hobart and Clarence Tantau to create the Spanish Revival Hotel Del Monte which was dedicated in May 1926. The celebration drew more than 3,000 guests.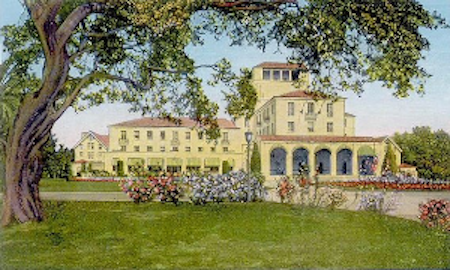 In the midst of the Jazz Age and Roaring Twenties, the new Hotel Del Monte captured the imagination of a nation on the move and a society undergoing rapid change.
Charles Crocker deserves credit for developing the original Hotel Del Monte and establishing trendsetting programs for the resort. Sam Morse's original thinking reinvigorated an aging Del Monte and created an indelible legacy of art and architecture and helped to preserve the region's unique culture, history and environment.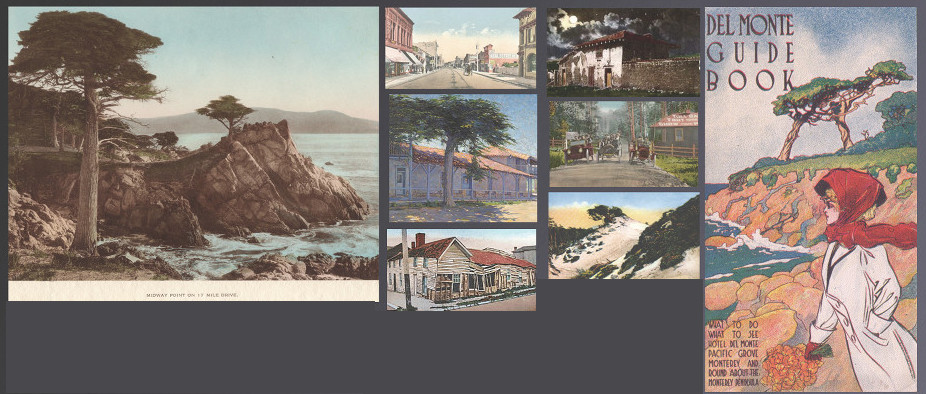 Hotel Del Monte was the starting and finishing point for the original 17-Mile Drive, which took hotel guests on a lengthy carriage excursion to local historical sites, through dramatic black cypress, oak and pine forests, and to coastal points of interest in the Hotel Del Monte Park Reservation, today's Pebble Beach.
President Benjamin Harrison toured the Hotel Del Monte Park Reservation in 1891 from an "elegant observation coach drawn by six beautiful bay horses. The coach was...decorated with the national colors, and the harness on the horses was lined with bunting and roses as far as possible." The Monterey Cypress newspaper quoted President Harrison as saying, "This is a lovely spot. I only wish I could stay here a week."
President Theodore Roosevelt wrote about his 17-Mile Drive horseback ride in a letter to his daughter Ethel, age 12: "This is a beautiful hotel...with gardens and a long seventeen-mile drive beside the beach and the rocks and among the pines and cypresses. I went on horseback. My horse was a little beauty, spirited, swift, sure-footed and enduring. As is usually the case here they had a great deal of silver on the bridle and headstall, and much carving on the saddle. We had some splendid gallops."
The publications below offer a unique glimps of the 17-Mile Drive, from its Victorian era origins as the 18 Mile Drive to its Jazz Age description as a "never to be forgotten motor trip around the Monterey Peninsula."
National newspapers reported on 17-Mile Drive, from trips and activities:
And the hotel itself lauded these spectacular sites in their guide books and marketing materials:
Art Treasures
The art gallery at Hotel Del Monte opened in 1907, and was the first location devoted solely to showcasing the work of "Californian" artists. The notion of establishing a dedicated place for uniquely Californian art was new. Set before an interested, influential, and potentially art-buying audience, the high-profile gallery in Monterey signaled a strong statement about the legitimacy of Californian artists, and may have opened the way for the region's future as an "art colony". Read about some of the gallery's first exhibited artists: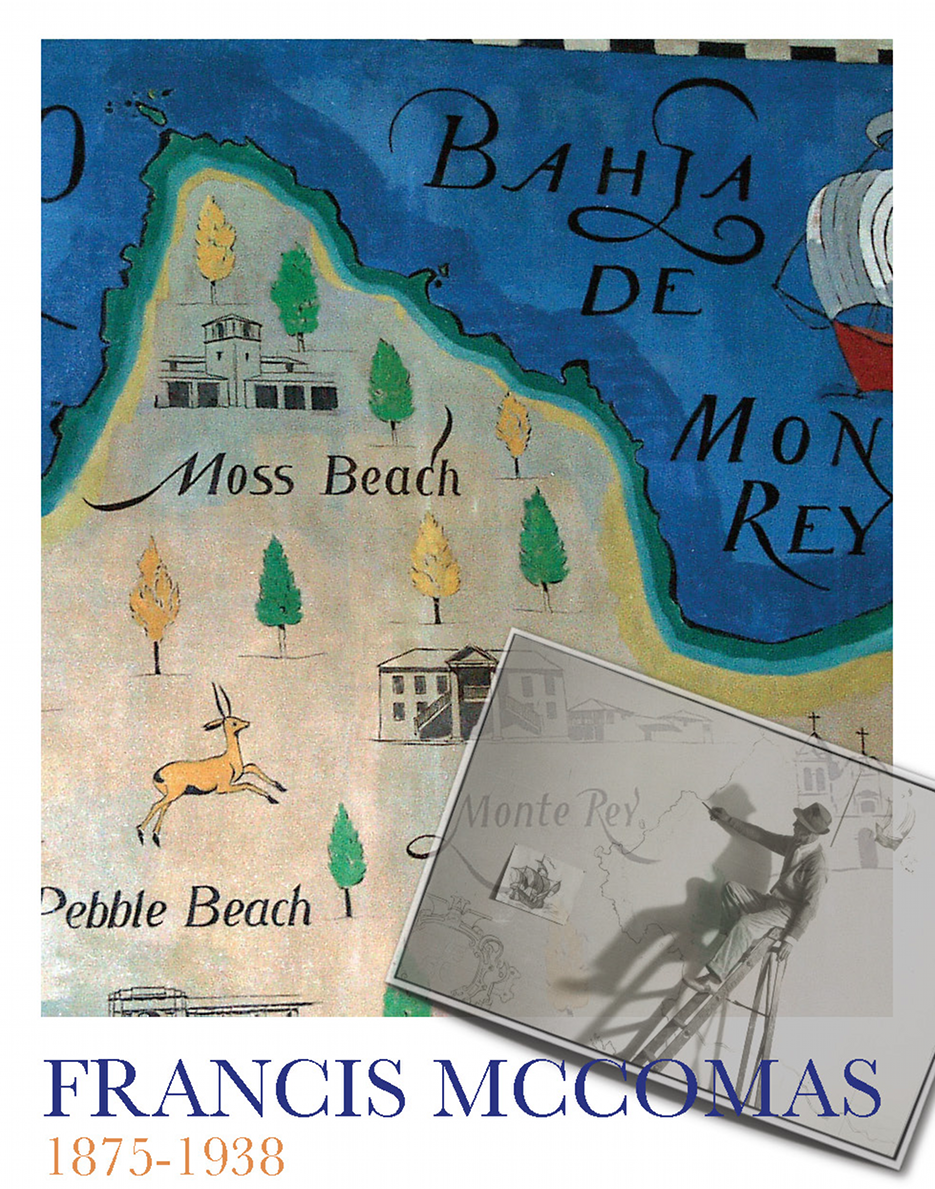 Francis McComas was born in Australia in 1875 and studied there at the Sydney Technical College. In 1898 McComas left Australia, working his way to San Francisco where he studied at the Mark Hopkins Institute. Following further study in Paris, McComas returned to San Francisco to begin exhibiting his works. In 1912 he moved to Carmel and a year later was one of only 3 California artists invited to exhibit at the pivotal New York Armory Show. In his later years, he was a close personal friend of Del Monte Properties Company President Sam F.B. Morse and a member of the Del Monte Art Gallery Board of Directors. McComas was a master watercolorist, whose works reflected to soft Tonal palette of the early northern California painters. McComas died at his home in Pebble Beach in 1938.
Sources
Special Collections & Archives, Dudley Knox Library, Naval Postgraduate School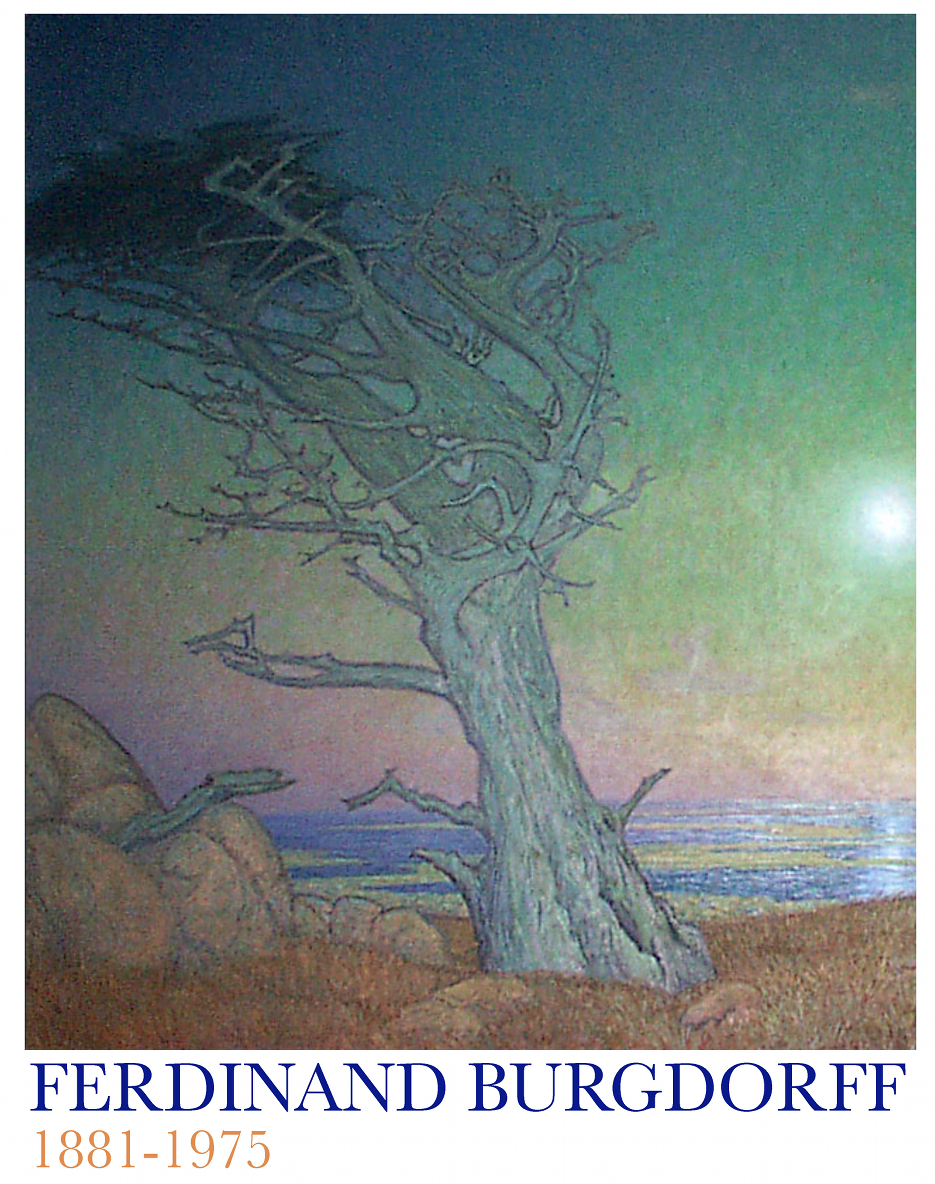 Ferdinand Burgdorff, an etcher, painter, and printmaker, was born in Cleveland, Ohio on November 7, 1881. He studied at the Cleveland School of Art and in Paris with René Menard and Florence Este. In 1907 he moved to California and settled on the Monterey Peninsula. He later built a home (designed by Bernard Maybeck) in Pebble Beach on Ronda Road and lived there until he death in 1975. His subject matter was inspired by the lighthouses on the California coast and the old mining towns; however, he is best known for his many oils, pastels, and watercolors of the Monterey Peninsula. He exhibited at the Del Monte Art Gallery in its opening year, 1907.
Sources
Special Collections & Archives, Dudley Knox Library, Naval Postgraduate School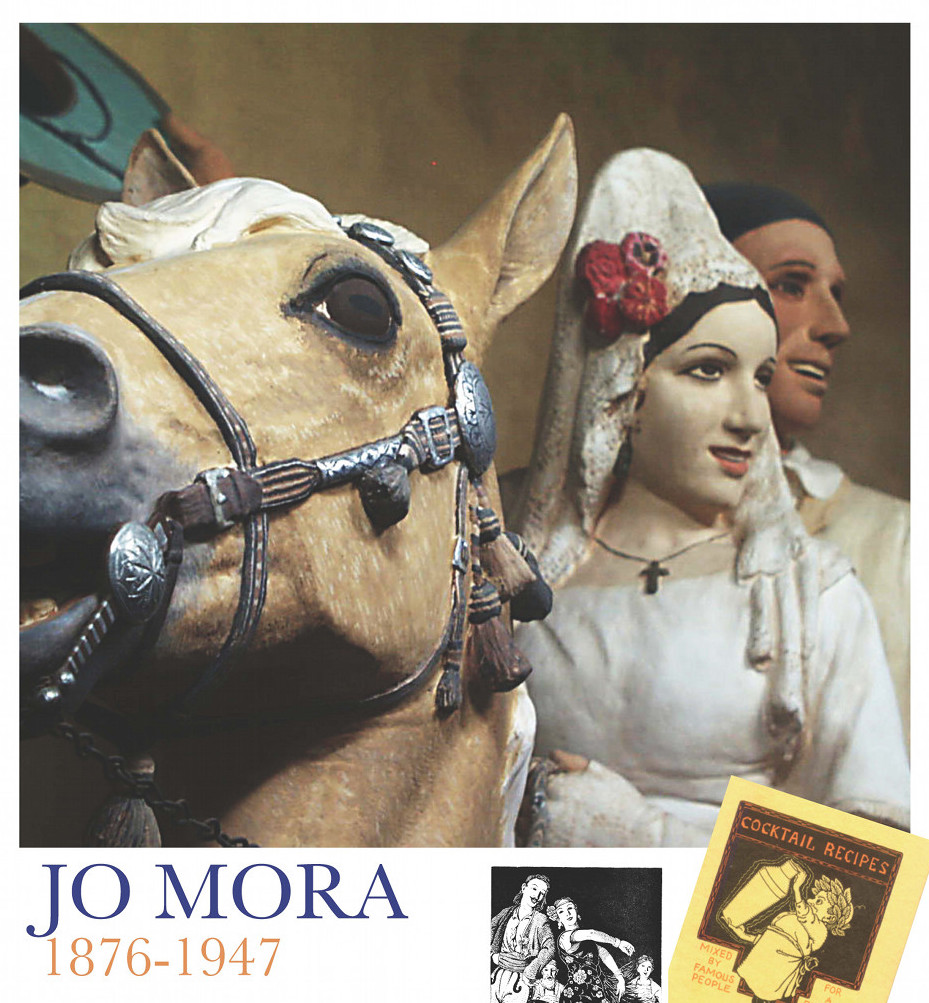 Joseph Jacinto "Jo" Mora (1876-1947) was an artist-historian, sculptor, painter, photographer, illustrator, muralist, and author who has often been called the "Renaissance Man of the West."
A close personal friend of Sam F.B. Morse's, Mora created the elegant masterpiece, La Novia, for Hotel Del Monte in 1939. Mora also produced numerous cartes, menu cover designs, and other ephemera for the hotel. His illustrations for the 1933 booklet, "Cocktail Recipes Mixed by Famous People for a Famous Hotel," are especially notable.
Mora was born in Montevideo, Uruguay. His family moved to the U.S. when he was four years old. He studied art in Boston and worked as a newspaper and magazine illustrator before moving to Carmel in 1920.
Sources
Special Collections & Archives, Dudley Knox Library, Naval Postgraduate School
Special Collections - Video Del Monte Part 1
Del Monte: Crocker's Playground
(1:47) Transcontinental railroad pioneer Charles Crocker built the original Hotel Del Monte. This video chronicles Crocker's vision and the Del Monte's rapid rise to world fame.
Special Collections - Video Del Monte Part 2
Del Monte: The Sports Empire
(2:21) The Naval Postgraduate School campus in Monterey, CA is built around the historic Hotel Del Monte, a pioneering resort that transformed the Monterey Peninsula into a scenic tourist destination.
Special Collections - Video Racing at Hotel Del Monte
Racing at Hotel Del Monte
(1:37) The development of Hotel Del Monte's race track and polo grounds, from its creation in the 1880's by railroad pioneer Charles Crocker to its transformation into a high speed auto race track during the Jazz Age.
HDM - Additional Resources
Learn more about Historic Hotel Del Monte
There are several other excellent archives in the Monterey area with unique Hotel Del Monte holdings.
Contact us
---
You might also be interested in...