Web Content Display
Web Content Display
About Us

Our mission and vision, our collections, responses to user suggestions, our history, and more.
Web Content Display
Web Content Display
Mission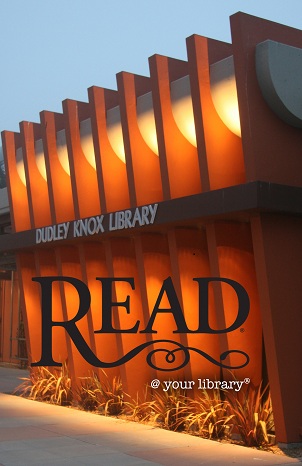 Dudley Knox Library contributes to learning, research and teaching -- anytime, anywhere -- through relevant and evolving collections, tools, services, and spaces designed for NPS patrons of today and tomorrow.
Strategic Goals:
Select and provide Scholarly Content relevant to NPS instructional and research needs

Promote Seamless Access and Remove Barriers to collections, people, and services

Create Learner-Centered physical and virtual Spaces

Assure Institutional Memory through a centralized repository for the NPS scholarly record and archives
---
Vision
The Dudley Knox Library is a dynamic and collaborative partner with members of the NPS community that is dedicated to advancing knowledge through integrated resources, responsive services, library instruction, and research assistance. We work together to promote NPS's position as a top-tier graduate-level teaching and research institution that fosters lifelong learning. DKL is a flexible, agile organization that measures and continually assesses our quality, relevance and effectiveness as we support the NPS strategic plan.
Dudley Knox Library Annual Reports
See examples, facts and figures, and more about DKL's many activities. These reports are organized by fiscal year (FY) and are created and maintained by library administration.
Our Collections
We collect scholarly content in all formats on subjects that support the current curriculum, instructional, and research needs of the Naval Postgraduate School. And although we are not a historical collection, we do seek out archival materials associated with the Naval Postgraduate School and its predecessors, including the Hotel Del Monte.
---
---
---
---
---
---
Gifts
We welcome your offer of a gift and will consider the offer according to our collection development policy and needs. We will not consider gifts that are in poor physical condition unless they are classics in specific research fields or in the area of naval or military history.
Gifts will only be considered with no restrictions or promises of immediate or future disposition. We can only acknowledge the number of items donated and we cannot legally provide an appraisal or estimate of the value.
Donors considering offering a gift to the Naval Postgraduate School should provide an inventory and value/appraisal with their completed Deed of Gift form. The offer will be forwarded to the appropriate Navy accepting official (NPS President is authorized to accept or reject gifts up to $12,000; Chief of Naval Operations is authorized to accept or reject gifts above $12,000).
If you would like to make an offer of a gift, please contact us:
Collection Development Coordinator (831) 656-3500 or

University Librarian (831) 656-2343
---
Suggest a Purchase
We welcome your suggestions for books, journals, and other library resources that support teaching, learning, and researching.
You may fill out the Purchase Request Form.
---
Dudley Wright Knox - Naval Officer & Historian
Naval Postgraduate School is proud that our Library is named for for Dudley Wright Knox. Knox's work on the Knox-King-Pye Board in 1919 provided a pioneering vision for the advanced education of naval officers and played a major role in the evolution of the Naval Postgraduate School.
Biography
Dudley Wright Knox (June 21, 1877-June 11, 1960) was born in Fort Walla Walla, Washington, the son of Colonel Thomas Taylor Knox, U.S. Army, and Cornelia Manigault Grayson. After attending high school in Washington, D. C., he entered the U. S. Naval Academy on appointment from the Ninth District of Tennessee on September 6, 1892. He was graduated on June 5, 1896, and following the two years at sea, then required before commissioning, he was commissioned Ensign on May 6, 1898. Subsequently, he attained the rank of Captain to date from February 1, 1918. He was transferred to the Retired List of the Navy in that rank on October 24, 1921, but continued on active duty until relieved on June 26, 1946. He was advanced to the rank of Commodore on the Retired List, to date from November 2, 1945.
Commander Dudley W. Knox as a Captain.
Following graduation from the Naval Academy, Knox had duty as a Passed Midshipman on the battleship U.S.S. Massachusetts and upon outbreak of the Spanish-American War he was commissioned as Ensign and transferred to the U.S.S. Maple, serving on blockade duty in Cuban waters until the defeat of Spanish forces. He was then transferred to the Receiving Ship U.S.S. Independence at Mare Island, California, serving from August 25 to November 1, 1898, and then to the U.S.S. Yorktown which proceeded to Manila and engaged in operations against the Philippine Insurrection. During this insurrection he later commanded the U.S.S. Albay and U.S.S. Iris, which also participated in the Boxer Rebellion Campaign.
Relieved of command of the U.S.S. Iris in June 1901, he reported for a tour of duty as an Inspector of Ordnance at Brooklyn, New York. Then followed four years in the First Torpedo Flotilla comprising the first destroyers of our Navy. In this he successively commanded the U.S.S. Shubrick (Torpedo Boat No. 31), U.S.S. Wilkes (Torpedo Boat No. 35), U.S.S. Decatur (DD-5) and the Flotilla itself, which crossed the Atlantic and went to the Philippines and the coasts of China. Subsequently he was Ordnance Officer of the battleship U.S.S. Nebraska (BB-14) during the Atlantic Fleet's cruise around the world from 1907 to 1909, and then served as Aide to the Commandant of the Mare Island Navy Yard. On May 18, 1908, Knox married Lily Hazard McCalla, the daughter of Rear Admiral Bowman H. McCalla. They had one child.
Thereafter he had duty as Fleet Ordnance Officer of the Atlantic, and later the Pacific Fleet; attended the Summer Conference of Officers and upon graduation and promotion to lieutenant commander remained for duty at the Naval War College in 1912-1913. He served as Aide on the staff of Admiral William S. Sims, Commander Atlantic Torpedo Flotilla 1913-1914. Knox was instrumental in developing a doctrine and transforming the destroyers of the Atlantic Fleet from a scouting force into an offensive weapon. On November 25, 1914 he reported for duty in the Office of Naval Intelligence, Navy Department, Washington, D, C., where he served until April 20, 1916. Assigned duty as Commandant, Naval Station, Guantanamo Bay, Cuba, he served in that capacity through the early period of World War I, until August 1917, when he returned to the Navy Department for brief duty in the Office of the Chief of Naval Operations. He was detached on November 22, 1917 and proceeded to London, England, to join the staff of Admiral William S. Sims, Commander, U. S. Naval Forces Operating in European Waters. There he served first as Aide in the Planning Section, and later in the Historical Section, attached successively to the U.S.S. Melville and the U.S.S. Corsair. He was awarded the Navy Cross for "distinguished service in the line of his profession while serving on the Staff of Commander, U. S. Naval Forces Operating in European Waters." Also, for meritorious service in that capacity he was awarded the Companion of the Order of St. Michael and St. George by the Government of Great Britain, and the Cross of St. Maurice and St. Lazarus by the Government of Italy.
A 1934 photograph taken while Captain Knox served as officer in charge of the Office of Naval Records and of the Library of the Navy Department.
In March 1919 he returned to the United States, and from April of that year until March 1920, served as a member of the faculty of the Naval War College. During the next year he successively commanded the cruiser U.S.S. Brooklyn (ACR-3) and the cruiser U.S.S. Charleston (C-22), flagship of the destroyer force, Pacific Fleet. Relieved of command of the latter vessel on July 14, 1921, he again returned to the Office of the Chief of Naval Operations, Navy Department. Transferred to the Retired List of the Navy on October 20, 1921, he continued active duty as Curator for the Navy Department and Officer in Charge, Office of Naval Records and Library, Navy Department. He transformed this establishment, in the course of the next two decades, into one of the most important agencies in the United States for the study and preservation of naval history. When Knox assumed command of the office, its vast collections of records, including large numbers of those from the recent war, were in an unorganized, almost chaotic state. With a tiny staff, he established a modern archival system and managed to collect and classify most of the important records relating to the navy's activities in World War I. At the suggestion, and with the support, of President Franklin D. Roosevelt, the office undertook the collection, editing, and publication of records relating to the activities of the navy in the early days of the Republic. Between 1934 and 1941 seven volumes of documents relating to the quasi-war with France were published, followed by seven more relating to the Barbary wars.
During World War II he was assigned additional duty as Deputy Director of Naval History, and on November 2, 1945 he was advanced to the rank of Commodore, to continue while serving in that capacity. He was relieved of all active duty on June 26, 1946. He was awarded the Legion of Merit for "exceptionally meritorious conduct ..... as Officer-in-Charge of the Office of Naval Records and Library and as Deputy Director of Naval History from the beginning of the National Emergency on September 8, 1939, to the cessation of hostilities on September 2, 1945. Serving with distinction throughout this critical period, (he) carried out his important assignment with diligence and efficiency to insure that accurate records of the United States Navy's participation in World War II were maintained for posterity. Reviewing action reports, war diaries of ships and other historical data, he directed the correlation and preservation of this vital information and in addition, was responsible for the servicing of numerous publications for accuracy of facts pertaining to Naval History ....." Commodore Knox died at the Naval Hospital, Bethesda, Maryland, on June 11, 1960, and was buried in Arlington National Cemetery, Arlington, Virginia.
In addition to the Navy Cross and the Legion of Merit, and the decorations from Great Britain and Italy, Commodore Knox had the following service Medals: Navy Expeditionary Medal; Spanish Campaign Medal; Philippine Campaign Medal; China Relief Expedition Medal; Cuban Pacification Medal; Mexican Service Medal; World War I Victory Medal with Overseas Clasp; American Defense Service Medal; American Campaign Medal; and the World War II Victory Medal.
Commodore Knox was the guiding spirit in organizing the Naval Historical Foundation, and was its Secretary from 1926 to 1946. He was a Vice President and Chairman of the Executive Committee from 1946 to 1959, when he succeeded Fleet Admiral William D. Leahy as President. He was a member of the Advisory Council of Living Age, the American Neptune, the Americana Institute, the Massachusetts Historical Society, and the American Antiquarian Society, and had been Vice President of the Navy Mutual Aid Association.
He was a gold medal essayist, U. S. Naval Institute, in 1914 and 1915; Naval editor of the Army and Navy Journal in 1920-23; was Naval correspondent for the Baltimore Sun in 1924-1929 and for the New York Tribune in 1929; and had contributed articles on Naval subjects to various other publications. He was the author of The Eclipse of American Sea Power, published in 1922; The Naval Genius of George Washington, published in 1932; Naval Sketches of the War in California, published in 1939; and The Professional Value of Naval History, published in 1957.
His A History of the United States Navy was first published in 1936, and a revised edition published in 1948. Dr. James Finney Baxter III, President of Williams College, reviewing that book in the American Historical Review, described it as "the best one-volume history of the United States Navy in existence". (American Historical Review, July, 1940)
He was survived by his wife, the former Lily Hazard McCalla of Santa Barbara, California.
Their son, Commander Dudley Sargent Knox, USNR, earned the Legion of Merit, the Commendation Ribbon, and the Presidential Unit Citation Ribbon, for outstanding service in World War II.
His American Naval Participation in the Great War (With Special Reference to the European Theater of Operations) is available online at the Naval Historical Center.
---
Adapted from: "Commodore Dudley Wright Knox, U.S. Navy, Deceased," produced by Office of Naval Records and Library, 13 Sept 1960, located in Dudley Knox ZB file, Navy Department Library.
---
The information in this biography was taken from the following sources:
"Commodore Dudley Wright Knox, U. S. Navy, Deceased", [Unpublished] September 13, 1960. Dictionary of American Biography, Supplement Six 1956-1960, Charles Scribner's Sons, 1980.
"Commodore Dudley Knox Dead; Navy Historian and Author, 82," New York Times June 12, 1960.
"Dudley W. Knox, Commodore U.S. Navy," Dudley Knox Library Groundbreaking Ceremony Program August 24, 1970.
"Dudley W. Knox, Commodore, U.S. Navy," Dudley Knox Library Dedication Ceremony Program March 10, 1972.
Dictionary of American Naval Fighting Ships, Vol. 3, 1968.
---
You can read more about Dudley W. Knox at:
Hayes, C.D., (CDR USN). 2008. Developing the Navy's operational leaders: a critcal look. Naval War College Review 61(3): 77-108.
Knox, D.W.; King, E.J.; and Pye, W.S. 1920. Report and recommendations of a Board appointed by the Bureau of Navigation regarding the instruction and training of line officers. United States Naval Institute Proceedings. 46(210):1265-1292. Calhoun URI: http://hdl.handle.net/10945/40344
Web Content Display
Web Content Display
A Message from the University Librarian

You asked and we listened! New one-stop library search and single sign-on.

You wanted one Google-like search box to search all the library's resources - use the search box on our homepage to discover books, ebooks, theses, and now quick access to full-text articles too!

You wanted a single password for all of your library accounts - now you can use your NPS login for everything: library account, request article or book, and off campus access to licensed resources. Log into one library service and you've logged into all!
---
Most of these changes are intuitive, but if you have questions use Ask a Librarian, stop by the Information Desk, or contact your Library Liaison
Let us know what you think. Use the Feedback button on our New Library Search page or contact me.
Eleanor Uhlinger, University Librarian (euhlinger@nps.edu)
Web Content Display
Web Content Display
Contact us
---
You might also be interested in...