NPS Presidents' History
The Naval Postgraduate School began in 1909 as the School of Marine Engineering at Annapolis. It was renamed twice as its mission and scope of operations expanded, becoming the Postgraduate Department of the Naval Academy in 1912 and the Naval Postgraduate School after World War I. The President's title was established in 2004 (U.S. Code Title § 7042).
Senior leadership titles have changed since the early School of Marine Engineering was established by a Secretary of the Navy executive order in 1909. Titles as they have been used:
(1) Head, School of Marine Engineering
(2) Head, Postgraduate Department of the Naval Academy
(3) Head, Naval Postgraduate School
(4) Superintendent, Naval Postgraduate School
(5) President, Naval Postgraduate School
Prepared by Special Collections & Archives, Dudley Knox Library, Naval Postgraduate School. Sources include documents included in NPS Archve: Calhoun.
NPS Provosts' History
The 79th Congress created the civilian position for the Naval Postgraduate School's Provost in June 1946 when it passed Public Law 402. The initial title, Academic Dean, was later revised.
Provosts at NPS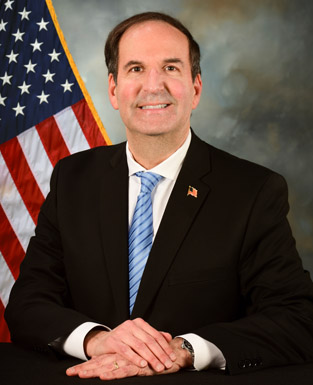 Dr. Scott Sigmund Gartner is The Provost and Academic Dean of the U.S. Naval Postgraduate School, Monterey, California, where he also serves as Professor of Defense Analysis. He previously held the position of Director of the Penn State School of International Affairs, where he remains a Faculty Affiliate. Gartner's interdisciplinary, multi-method, research focuses on great power conflict, international security, war and politics, counter-terrorism, conflict mediation and policy assessment and is both impactful and well cited.
Gartner's publications include Costly Calculations: A Theory of War, Casualties, and Politics, Strategic Assessment in War, International Conflict Mediation: New Approaches and Findings and The Historical Statistics of the United States, in addition to articles in top journals in political science, sociology, international affairs, national security, history, military intelligence, public policy, international negotiations, and communications. His honors include the Jefferson award for the best government resource, the RUSA Outstanding Reference Award, Booklist Editor's Choice Award, Library Journal Best Reference Award, History News Network Book of the Month and the American Political Science Association's best policy thesis award. He is past president of the International Studies Association (West) and served as a Senior Advisor for the Net Assessment of Violent Non-State Actors for a U.S. intelligence agency.
Gartner's research has been funded by the National Science Foundation, the National Security Agency, The National Counter Terrorism Center, the Folke Bernadotte Academy, the Department of Defense, the Taiwan Foundation for Democracy and the Sloan foundation. Gartner's op-ed columns have been published in The Huffington Post, USA Today, The Christian Science Monitor, The Baltimore Sun, and many other outlets. He holds a PhD. and MA in Political Science from the University of Michigan, and BA in History and MA in International Relations from the University of Chicago.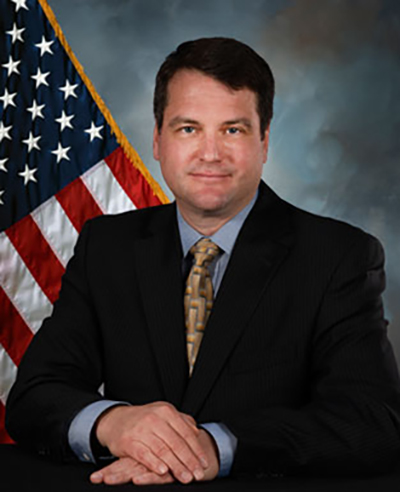 Dr. Robert F. Dell is a Professor of Operations Research (OR) at the Naval Postgraduate School (NPS) and Executive Director of the NPS Data Science and Analytics Group. He joined NPS OR as an Assistant Professor in 1990 and served as Chairman of the OR Department from 2009 to 2015. During his tenure as Chairman the department received the 2013 INFORMS Smith Prize. He served as editor-in-chief of the Military Operations Research Journal from 2015 to 2018. Professor Dell has received research support from every uniformed service for topics ranging from US Naval capital planning to US Army base realignment and closure. He has also applied optimization in the private sector in areas including production scheduling, supply chain design, and professional sports analytics. He has deployed twice to combat zones. Professor Dell has been awarded the Barchi, Koopman, and Rist prizes for military operations research. He has also received a Brazilian Navy Tamandaré Merit Medal, two Department of the Army Payne Memorial Awards for Excellence in Analysis, and two Department of the Navy Superior Civilian Service Awards.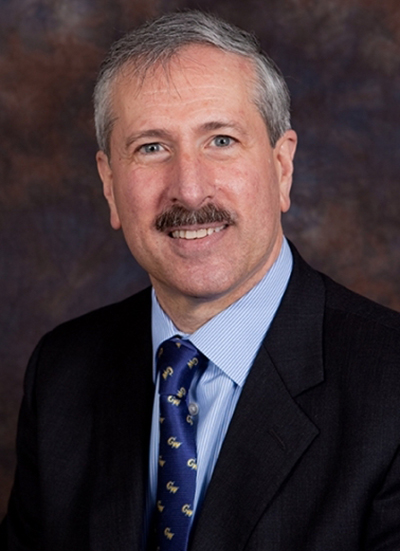 Dr. Steven R. Lerman assumed the position of Provost and Academic Dean of the Naval Postgraduate School on August 29, 2016.
Dr. Lerman comes to the Naval Postgraduate School following more than 40 years of experience in higher education, most recently serving as Provost and Executive Vice President of Academic Affairs at The George Washington (GW) University (2010-2015) and A. James Clark Professor of Civil and Environmental Engineering (2010-2016). As Provost, Dr. Lerman was responsible for GW's 10 schools and colleges, athletics (24 Division I varsity sports, club sports and intramurals), the Division of Student Affairs and the University Library. Approximately 4,900 full and part-time faculty and staff report up through these units with a combined budget of $580 million. Dr. Lerman was also responsible for all academic and student life aspects for three GW campuses (Foggy Bottom, Mt. Vernon and the Virginia Science and Technology Campus) as well as at the university's three learning centers.
Prior to GW, Dr. Lerman served as Dean for Graduate Education (2007-2010) and Vice Chancellor (2008-2010), at his alma mater, the Massachusetts Institute of Technology (MIT). In this capacity, Dr. served as the chief deputy to the Chancellor who has responsibility for student affairs, undergraduate education and graduate education.
Dr. Lerman has served as Director of the Center for Educational Computing Initiatives, the research unit of an MIT-wide research center devoted to studying the application of computational and communication technologies on education. He held the Class of 1922 Professorship at MIT, chaired the Faculty Advisory Boards of the MIT OpenCourseWare initiative and Academic Media Production Services, and was Deputy Director of the Singapore-MIT Alliance, MIT's largest distance education program. He served as the Chair of the MIT faculty from 1998 to 2001 and as Associate Chair of the Faculty from 1996 to 1998.
Dr. Lerman is a past Lilly Teaching Fellow, and the recipient of several teaching awards during his time at MIT, including the Maseeh Teaching Award, as well as the Advisor of the Year award through the National Association of Graduate and Professional Students. He has both chaired and served as a member of countless academic, industry and government advisory boards, and has broadly published in his field of transportation systems analysis.
Dr. Lerman received his Bachelor of Science and Master of Science degrees in Civil Engineering, and his Doctorate in Transportation Systems Analysis, from the Massachusetts Institute of Technology.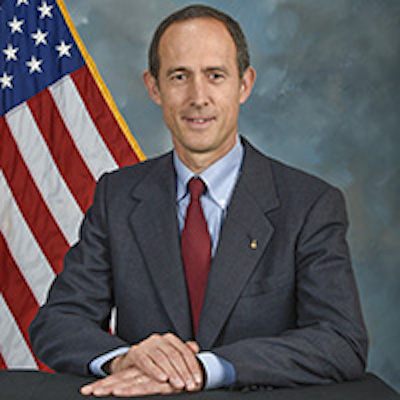 Dr. James H. Newman assumed the position of Acting Provost of the Naval Postgraduate School on October 5, 2015.
Newman came to NPS' Space Systems Academic Group in 2006 as a NASA Visiting Professor. He subsequently transferred from NASA in 2008 to the Department of the Navy to accept a tenure-track professorship at NPS. He has continued to teach orbital mechanics and launch systems and perform applied infrastructure research in the use of very small satellites for focused projects of national interest and for motivating hands-on, officer student educational opportunities.
NASA selected Newman into its astronaut program in 1990. Newman's space flight experience includes four missions aboard the Space Shuttles Discovery, Endeavour, and Columbia. Notably, he logged 43 days in space, including six spacewalks totaling 43 hours. On the spacewalks he installed mission critical equipment on the International Space Station and worked on the Hubble Space Telescope. As the robotic arm operator, he also deployed and retrieved satellites.
At NASA since 1985, he worked first as an instructor in the Mission Operations Directorate training astronauts and flight controllers in the fields of control and propulsion. Then, Newman served in the Astronaut Office Mission Support Branch, the Mission Development Branch, and as the Chief of the Astronaut Office Computer Support Branch. While in the Astronaut Office, he also served the Space Shuttle Program Office for two years, when he was responsible for managing the Shuttle Robotic Arm and the Space Vision System. Before coming to NPS, he spent three years in Moscow, Russia working for the International Space Station (ISS) Program Office as NASA's Human Space Flight Program Director in Russia.
Newman received a Bachelor of Arts degree in Physics from Dartmouth College in 1978 and a Master of Arts degree and Doctorate in Physics from Rice University in 1982 and 1984, respectively. After graduating from Rice University in 1984, Newman performed post-doctoral research and remains an adjunct professor in Rice's Department of Physics and Astronomy.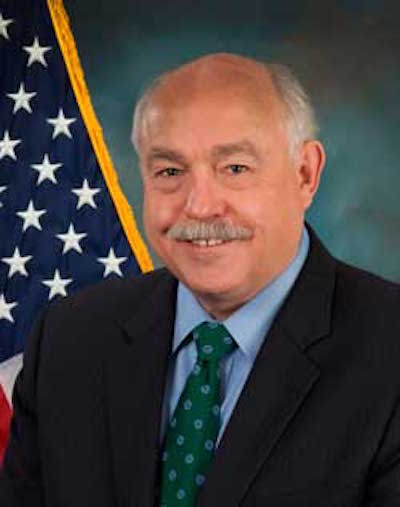 Dr. Douglas A. Hensler became the Naval Postgraduate School provost in June 2013.
Since 2008 Dr. Hensler was the Dean of the W. Frank Barton School of Business at Wichita State University (WSU). The Barton School of Business is the leading business school in Kansas placing most of its graduates in international businesses, innovative organizations, and state-of-art industries. Dr. Hensler led organizational changes that streamlined the Barton School's ability to respond to students, companies, and collaboration initiatives with other colleges and schools at WSU. Enhanced faculty participation, innovative thinking, and open decision making led to a revised Executive MBA curriculum, deep review of the MBA program with integration of student, business and faculty input, an ongoing undergraduate international projects enterprise, and an examination of the learning facilities, along with other initiatives.
Prior to WSU, Dr. Hensler served as Dean and Sid Craig Endowed Dean's Chair in the Craig School of Business at California State University, Fresno for three years. For eight years prior to that, Dr. Hensler served at the University of Colorado at Boulder as the W. Edwards Deming Distinguished Professor of Management, a joint appointment to the College of Engineering and Applied Science and the Leeds School of Business. He also served as Co-Executive Director of the Robert H. and Beverly A. Deming Center for Entrepreneurship.
Dr. Hensler has travelled extensively and built a network of international contacts and partnerships. He has served as Special Advisor to the Australian Organisation for Quality (NSW) and as an adviser to the Special Adviser team of the Scottish First Minister. From 2002 to 2005 he served on the Academic Advisory Board of e-TQM College in Dubai, UAE. He is a member of The Berne Initiative.
Before returning to the academic community, Dr. Hensler achieved a highly successful management career that includes 13 years in project, staff and line management positions at two technology driven companies. These positions include nuclear industry quality assurance management and aerospace industry quality engineering management, plant quality management, production management leading an organization of 250 personnel, and R&D management leading an organization developing state-of-the-art process improvements involving applied research. Dr. Hensler has provided training and consulting to American Airlines, CH2M-Hill, Texas Utilities, Sulzer, Louisiana-Pacific Corporation, Micro Motion, FEMA, Sporian Microsystems, and the Electricity Generating Authority of Thailand, and the Fulfillment Corporation of America. Doug's most recent appointment includes working with CEO's and other executives of the Wichita aviation community including Spirit AeroSystems, Cessna, Bombardier/Learjet, Boeing and Hawker Beechcraft, along with Koch Industries and Coleman (The Outdoor Company).
A frequent invited keynote speaker and presenter at international conferences, Dr. Hensler has authored and co-authored several articles and manuscripts on a diverse and cross-disciplinary set of topics including value creation, innovation and learning organizations, technology development, strategy and change, initial public offerings, manufacturing, emerging economies, risk and performance measurement, intellectual capital and the knowledge economy, sustainability, competition and cooperation, and leadership.
Dr. Hensler's academic preparation includes a BSE in Aerospace and Mechanical Sciences from Princeton University, an MBA from the University of Portland, and a Ph.D. in Finance from the University of Washington. He is a licensed professional engineer in Quality Engineering in the State of California.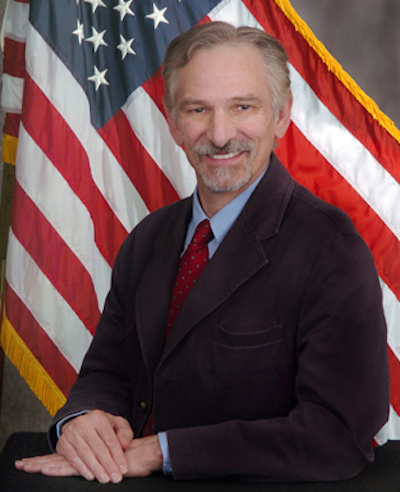 Dr. O. Douglas Moses is currently the Vice Provost of Academic Affairs. He assumed the role of Interim Provost for the Naval Postgraduate School in 2012.
A graduate of Cornell University, San Diego State University and University of California Los Angeles, where he received his B.A., M.B.A. and Ph.D., respectively, Dr. Moses served at NPS as an Associate Professor in the Graduate School of Business and Public Policy and Associate Provost for Academic Affairs, an Associate Dean and Associate Chair of Instruction, and as an Academic Associate for Financial Management. Dr. Moses has also been a visiting lecturer at Stanford University, University of California Berkeley, Santa Cruz and Los Angeles, at California State University Hayward, San Jose State University and at Golden Gate University.
A veteran of the United States Navy, Dr. Moses' teaching and research interests included financial and managerial accounting, reporting and statement analysis as well as business education. A recipient of the Allen Griffin Award and the John Jay Schiefflin Award for Excellence in Teaching, and the Arthur Anderson Distinguished Teaching Award at University of California Los Angeles. Dr. Moses was also a member of the American Accounting Association.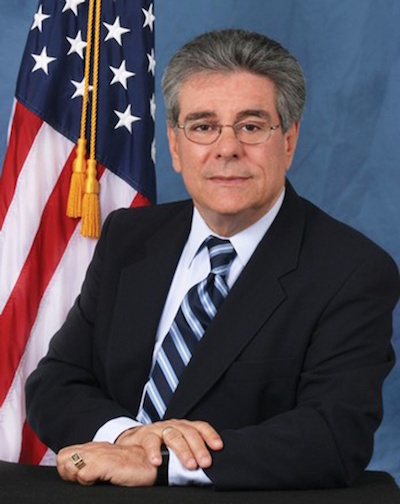 Dr. Leonard A. Ferrari was appointed Executive Vice President and Provost of the Naval Postgraduate School (NPS) in July 2006. Upon assuming the post of Provost, Dr. Ferrari spearheaded a new Strategic Plan initiative, proposed new collaborative efforts with regional research and education institutions and launched new efforts to make campus academic and business processes more effective.
Previously, Dr. Ferrari was the Dean of Research at NPS with responsibility for oversight of research, grants and contracts, the research activities of the Modeling, Virtual Environments, & Simulations Institute (MOVES), the Cebrowski and Meyer Institutes, policy issues and supervision of sponsored programs, oversight of the NPS Research Initiation Program (RIP) and the development of new research relationships and programs with federal, state and civilian organizations. Under his leadership, sponsored programs grew at a rate of nearly 25% per year. Dr. Ferrari played a lead role in the development of industry and relations with the UC system and several universities in the Washington Capital Region (WCR) as well as strengthened programs and collaborations with Lawrence Livermore National Laboratories.
Dr. Ferrari published approximately 100 research articles in electrical engineering and spent thirty years in academic faculty positions in addition to more than ten years in industrial research and development positions. He was Department Head of the Bradley Department of Electrical and Computer Engineering and later Vice Provost for Special Initiatives and Executive Director of the Institute for Information Technology at Virginia Tech. Prior to that time, he was a faculty member at the University of California, Irvine and Associate Dean for Research and Graduate Studies for the School of Engineering. Dr. Ferrari came to NPS with more than ten years of experience in private industry with Bell & Howell and the Polaroid Corporation.
He holds a B.S.E.E. degree from the Massachusetts Institute of Technology and an M.S.E.E. from Northeastern University. His Ph.D. degree is from the University of California, Irvine with research work in spatially varying digital filters. Dr. Ferrari's research is in the areas of signal and image processing, medical imaging systems, computer graphics and multi-media systems. His most recent research was in the area of spline computations for computer graphics and data compression, where he produced extremely efficient computational procedures. He created the 2-5-2 spline, a mathematical basis function suitable for all spline applications that has superior properties and computational advantages over conventional B-splines. Dr. Ferrari and his colleagues have used the new spline algorithms and concepts in the development of low power circuits for high quality computer graphics and data compression in multimedia systems.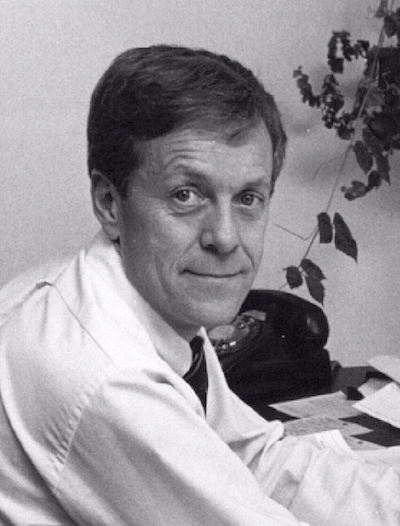 Richard Elster attended the University of Minnesota in Minneapolis where he received the degrees of Bachelor of Arts, Master of Arts, and Doctor of Philosophy in Industrial Organizational Psychology.
In January of 1969 he joined the faculty of the Naval Postgraduate School. His teaching focused on DoD manpower, personnel and training policies. From 1 July 1975 to 1 July 1978, he was on leave from the Naval Postgraduate School. During that period, he worked in the Office of the Assistant Secretary of Defense (Manpower and Reserve Affairs), and as Senior Scientific Advisor to the Deputy Chief of Naval Operations (Manpower)/Chief of Naval Personnel, Admiral James D. Watkins.
On 1 October 1979, he was promoted to professor in the Department of Administrative Sciences at the Naval Postgraduate School. In July of 1983, he became Chairman of the Department of Administrative Sciences.
During the period of 1984-1988, he served as Deputy Assistant Secretary of the Navy for Manpower. Additionally, he was Acting Assistant Secretary of the Navy (Manpower & Reserve Affairs) during the period 7 April - 28 June 1988.
In 1989, he filled the Chief of Naval Operation's manpower chair at the Naval Postgraduate School. During January-September 1990, he was Deputy Assistant Secretary of Defense for Resource Management and Support. He was named Dean of Instruction at the Naval Postgraduate School in September 1990 where he served in this role until June 1995. On July 1, 1995 he was named Provost/Academic Dean of the Naval Postgraduate School by the Secretary of the Navy. He was appointed to a second five-year term in July of 2000. Read more in NPS Archive: Calhoun.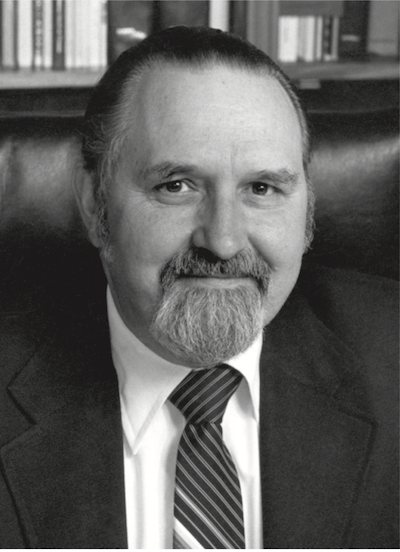 Harrison Shull (1923-2003) was the son of Dr. George H. Shull, the Princeton botanist who invented hybrid corn. He attended Princeton University, majoring in chemistry and received the degree of Bachelor of Arts with highest honors in 1943. From 1943-1945 he was employed at the U. S. Naval Research Laboratory, Washington, D.C., ultimately serving as Ensign, USNR.
Shull attended the University of California, Berkeley where he received a Ph.D. in Physical Chemistry in 1948. From 1955 to 1979 he was professor and chair of the chemistry department at Indiana University in Bloomington, the author of over 140 scientific papers and a college level chemistry textbook. He became an innovator in computer development and use, originating the model Quantum Chemistry Program Exchange and heading the University's Research Computing Center.
Dr. Shull served as a member of the Naval Studies Board of the National Research Council from 1974 to 1979 and was a member of the CNO's Executive Panel from 1984 to 1988. He was also a member of the Board of Trustees of the Institute for Defense Analyses.
From 1979 to 1982, Dr. Shull served as Vice President and Provost of Rensselaer Polytechnic Institute. In 1982, he was appointed chancellor of the University of Colorado at Boulder. In 1985 he became Provost and Vice President for Academic Affairs at the Naval Postgraduate School in Monterey, California. Read more in NPS Archive: Calhoun.
Kneale T. Marshall was born in Yorkshire, England in 1936. He graduated from Imperial College in 1958 with a Bachelor of Science (Eng) in mining and metallurgy. He joined the staff of Eldorado Mining & Refining in Saskatchewan as a mill engineer, and in 1961 was appointed Chief Metallurgist of the Beaverlodge operation.
In 1962 he entered the University of California at Berkeley to study Operations Research, receiving his Doctor of Philosophy degree in September 1966. In July 1968, he joined the faculty of the Naval Postgraduate School as Assistant Professor of Operations Research, promoted to Associate Professor in 1970 and to Professor in 1975. In September 1978 he was appointed as Science Advisor to the Chief of Naval Personnel in the Office of the Chief of Naval Operations in Washington, DC. He returned to Monterey in September 1980 and was appointed Chairman of the Operations Research Department. He was appointed Dean of Information and Policy Sciences in January 1983 where he served through December 1990. From November 1987 until July 1988 he served as Acting Provost of the Naval Postgraduate School, and in July of 1990 he was appointed the the Chief of Naval Operations Chair Professor of Emerging Technologies in the Operations Research Department. Read more in NPS Archive: Calhoun.
David Alan Schrady was born in Akron, OH. He was educated at the Case Institute of Technology receiving a Bachelor of Science in 1961, Master of Science in Operations Research in 1963, and Doctor of Philosophy in 1965. In September 1965 he joined the faculty of the Naval Postgraduate School in the Operations Research Department as an Assistant Professor. He spent the academic year 1970-71 as associate program director in the Operations Research Branch of the Office of Naval Research in Washington, D.C. Returning to Monterey, he was Academic Associate for the Operations Analysis curriculum from July 1972 to April 1974. In April 1974 he was appointed Chairman of the Department of Operations Research and Adrninistrative Sciences. In June 1976 he was appointed Dean of Information and Policy Sciences and Dean of Academic Planning. In August 1980 he was appointed Acting Provost and Academic Dean and subsequently appointed to that position by the Secretary of the Navy, the Honorable John Lehman. For service in this position he was awarded the Navy Superior Civilian Service Award by the Chief of Naval Operations. Read more in NPS Archive: Calhoun.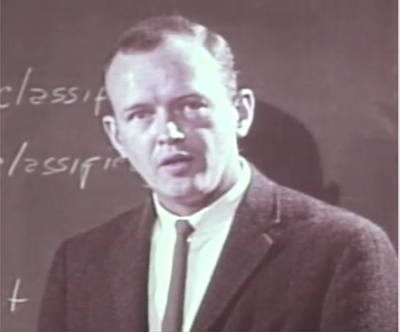 Jack Borsting was born in Portland, Oregon, in 1929. He received a B.A. in mathematics from Oregon State College in 1951, and a M.A. (1952) in mathematics and a Ph.D. (1959) in mathematical statistics from the University of Oregon. Prior to assuming the position of Provost in 1974, he was Professor and Chairman of the Department of Operations Research and Administrative Sciences at the Naval Postgraduate School; he had previously been a professor in the Mathematics Department.
He acted as president of the Operations Research Society of America (ORSA), president of the Military Operations Research Society and was a Fellow of the American Association for the Advancement of Science. Jack Borsting's image, here shows him as he appeared in a 1968 film about NPS entitled, "The Postgraduate Way". Read more in NPS Archive: Calhoun.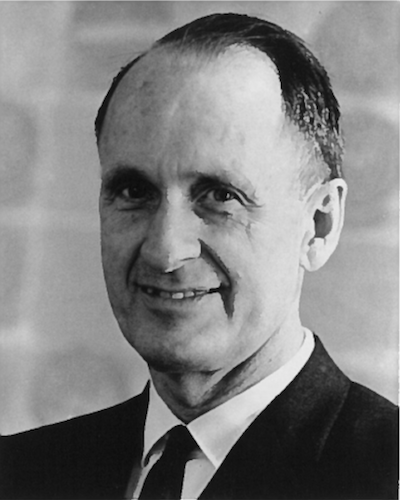 Dr. Milton U. Clauser (1913-1980), a specialist in Aeronautics, assumed the postion of Academic Dean of the Naval Postgaduate School September 1, 1970. He was a graduate of the California Institute of Technology, where he received his Ph.D. in 1937. Dr. Clauser later worked for Douglas Aircraft Co. in structures, aerodynamics, flight testing and design. In 1950 he became head of the School of Aeronautical Engineering at Purdue University. Dr. Clauser also served as vice president for the Ramo-Woolridge Corporation, later known as TRW, and headed the Leincon Laboratory and taught Aeronautics and Astronautics at MIT before taking the post of academic dean at the Naval Postgraduate School.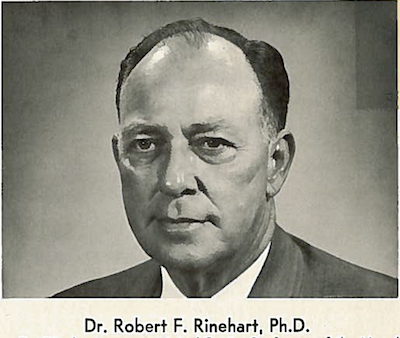 Dr. Robert F. Rinehart was appointed as Academic Dean in 1965. Previous to his arrival at NPS, he was a professor of mathematics at Case Institute of Technology in Cleveland. Dr. Rinehart served the Navy many times during his distinguished career: as a civilian member of the Navy Operations Research Group aboard a submarine in the Pacific during World War II; as director,Weapons Systems Evaluation Division of the Institute for Defense Department; and as a consultant for numerous government agencies. He acted as past president of the Operations Research Society of America and the Society for Industrial and Applied Mathematics.
Allen Edgar Vivell, b. 1905, attended The Johns Hopkins in Baltimore, majoring in Electrical Engineering, with minors in Mathematics and Physics. He received the degree of Bachelor of Engineering in June, 1927 and the degree of Doctor of Engineering in June, 1937. His doctoral research was in the field of magnetic testing.
He accepted an appointment as an Associate Professor of Electrical Englneering at the Naval Postgraduate School in 1944, and was promoted to the rank of Professor In July, 1946. During his tenure at the Naval Postgraduate School his research concentrated primarily on magnetic amplifiers and complex magnetic excitations. He acted as an officer of most of the faculty organizations, executive officer of tbe Department of Electrical Engineering, moderator of the Engineering School Faculty Council and has completed many special admlnistrative assignments. He has been Academic Dean of the Postgraduate School since 1 July 1960. He is a member of the American Institute of Electrical Engineers, American Rocket Soctety, The American Society for Engineering Education, American Association for University Professors, Sigma Xi, Tau Beta Pl, Sigma Taa, Naval Institute, Naval Senior Scientists, Armed Forces Management Association, Trustee of the Monterey lnstitute for Foreign Studies.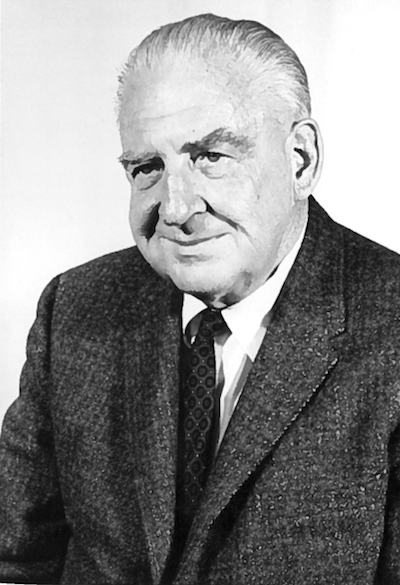 Dr. Roy S. Glasgow was appointed Dean of the Postgraduate School in 1949 and held the position until 1960. He is widely recognized as a prime mover in the university's first steps toward becoming what is now regarded as one of the premier research an educational institutions in the nation.
Dr. Glasgow was born in St. Louis, Mo., in 1895. He was a graduate of Washington University in St. Louis, and of Harvard. He was a faculty member at Washington for 29 years. During World War II, Glasgow served as radio consultant to the War Department and headed the Technical Intelligence Committee in Germany for the War and State departments, for which he received the Distinguished Service Award.
In 1992, the newest academic building at the Naval Postgraduate School was named of one of the driving forces behind the university's move from the U.S. Naval Academy to Monterey in 1952, Dr. Roy S. Glasgow.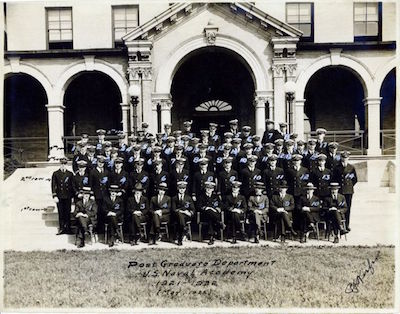 Paul James Kiefer joined the Naval Postgraduate School faculty at the United States Naval Academy, Annapolis in September, 1920. By April, 1927, he was made a professor of marine and mechanical engineering and became head of that department.
Kiefer earned an A.B. from Wittenberg College in 1908, and a B.S. in mechanical engineering from Case Institute of Technology in 1911. His experience was broad and varied: he attended the University of Pennsylvania from 1916-18, taking a graduate course in economics and political science not directed toward a degree and was employed professionally as a draftsman, a surveyor, as a power plant designer and construction engineer. He taught mechanical engineering at the University of Pennsylvania, and taught steam engineering at the University of Illinois. He spent a year in naval service as ensign and lieutenant.
Case awarded the graduate degree of Mechanical Engineer to Kiefer in 1930, in recognition of his professional attainments. He contributed articles to the technical press of the time and was sectional director of the American Society of Mechanical Engineers. He was co-author of Principles of Engineering Thermodynamics, then used as a textbook at the U. S. Naval Academy's Postgraduate School. He earned an M.E. in 1939 and received an honorary D.Sc. from Wittenberg College in 1953. He was listed in Who's Who in Engineering and in American Men of Science.
Kiefer is number 2 in the 1921 "Post Graduate Department" class photograph. View it in Calhoun.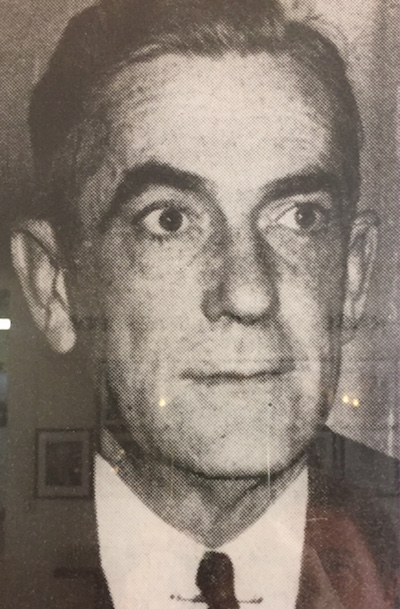 Ford L. Wilkinson, Jr. was the Naval Postgraduate School's first academic dean. He was a 1917 graduate of the Naval Academy who resigned his commission in 1927. He became chairman of the Department of Mechanical Engineering at the University of Tennessee in 1928 and before joining the University of Louisville Speed Scientific School in 1933. He later became dean of that school prior to his NPS appointment. Dr. Wilkinson left NPS to become president of the Rose Technological Institute (now the Rose-Hulman Institute of Technology).
NPS Presidents & Provosts - Contact us
Contact us
---
You might also be interested in...